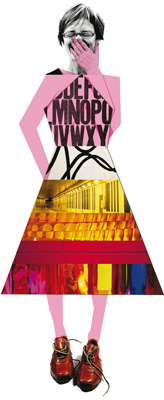 Zoë Collins is an illustrator and graphic designer who has a penchant for beautifully bound journals. Always with several on the go, she loves to write and draw. Working with key clients, Zoë's strengths lie in branding, and communication strategy — with an emphasis on delivering originality and a strong visual presence. 
Most recently, she has worked with 
Jen Storer
, children's author, redefining Jen's online presence and identity as an educator & business woman, for Jen's online creative writing school:  
Girl & Duck
, 
Another key client is Dr Zewlan Moor, of 
Byron Bibliotherapy
. A true collaborative effort, the identity is not what you'd expect of a bookish GP!  
In the next few years Zoe is setting her sights on a new direction — studying illustration with the MATS community, and taking more time to follow personal projects.  Zoë has a blog called '
Hoodlum Friends
' which she writes and illustrates as frequently as she can.
If you'd like to get in touch, please use the form below, follow Zoe on instagram (@hoodlumfriends) or sign up to her mailing list by clicking here.